First, we need to mention, Portuguese breakfast is very special because of their own cooking style. Vasco da Gama first introduced the Europeans to the spices. He visited India and Indonesia using ocean route he brought lots of spices from India.
There is a proverb "Eat breakfast like a king, lunch like a prince, and dinner like a pauper." but Portuguese doing just opposite. They invest time to prepare lunch and dinner. They love a little bit of late dinner. 
Morning breakfast just standard like other regions. They are not cooking in the morning. As usual coffee, bread, cheese, ham, and of course squish of fresh orange juice.  Milky coffee is very popular in Portugal.
Portuguese hotel breakfast is a fine standard menu they will serve. If you get bored you can make a custom order. What we did during staying in Lisbon.
Holidays in Portugal offer food lovers the chance to enjoy some of the best-kept culinary secrets anywhere.
And with luxury villas in Portugal offering a perfect base from which to discover this wonderful country, there has never been a better time to experience everything that makes Portugal special.
The Portuguese are food fanatics. Portuguese cuisine is characterized by rich, filling, and flavorful dishes that rely heavily on a Mediterranean influence but also incorporate a spice-influenced direction to create a unique blend unlike anywhere else.
Because of Portugal's links to the Spice Islands of Indonesia and the Pacific Rim, spices like turmeric and vanilla feature heavily in Portuguese desserts and pastries.
The most popular deserts in Portugal are rice pudding flavored with cinnamon and vanilla, caramel custard, and sweet pastries, originally developed by nuns to generate revenue.
Food plays an important role in Portuguese culture. The country's cuisine is characterized by rich, full-flavored dishes made with fresh ingredients. 
Moorish and Mediterranean influences have given the Portuguese cook the best textures and flavors to work with.
History of Portuguese Cuisine
Some of the most popular Portuguese Breakfast dates back to the 15th century when Prince Henry the Navigator ordered his people to bring to Portugal any plants, exotic fruits, and nuts from the New World.
Spices and herbs like ginger, pepper, paprika, saffron, and curry were introduced by explorers into Europe and became part of the Portuguese cuisine.
Other key ingredients include perceives (gooseneck barnacles), caracoles (snails), swordfish, seafood, potatoes, tomatoes, and corn.
Traditional Portuguese Breakfast
In Portugal, breakfast consists of milk or coffee and a bread/croissant roll with cheese, ham, butter, or jam.
Breakfast cereals and sweet pastries are also popular. Lunch is the most important meal of the day and lasts over on hour. Dinner is usually served late in the evening.
Portuguese Milky coffee is very common in Portugal actually they are drunk for it.
If you rent a motel with a bed and breakfast, sometimes they will serve you some special homemade cake. It's just changed our monotonous breakfast in Portugal. The lady was so kind when she saw my children cannot eat the same breakfast then she baked a cake.

Portuguese orange is the best oranges in the European market. Especially in the Algarve in the south of the country, and you can get freshly squeezed orange juice in most cafés in Portugal.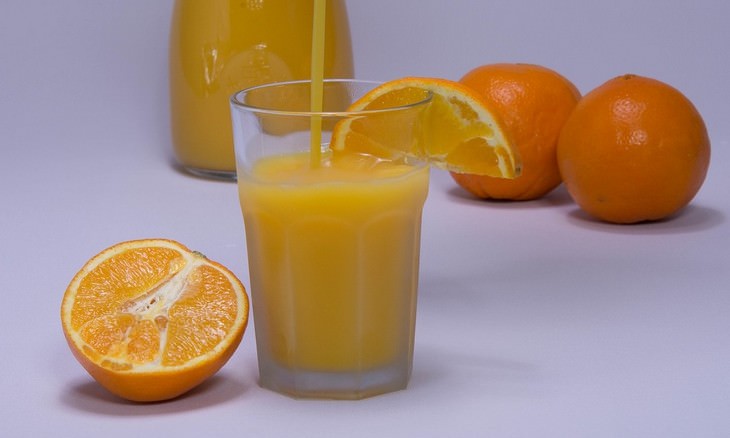 Let's check the favorite mouthwatering custom order Portuguese Breakfast
If you stay in the bread and breakfast hotel and if you have easy access to the kitchen you can make your own breakfast but with Portuguese flavor. Or you can make a custom order with extra cents.
Portuguese Parsley & Onion Omelet.
This special Omelet is a Portuguese tradition, local people say "Torta", It's super-fast to make and not only is it nutritious but delicious. A real "get going" Breakfast or Lunch. 
A great Portuguese tradition, go into your backyard, raid the chicken house for the fresh eggs and go to it. Your family will love you for it, especially if you make some hot homemade bread to go with it.
Recipe
2 to 3  Eggs
1/3 Cup – Onions
1/2 Cup – Parsley
2 to 3 Tbsp. – Milk
1 Tsp. Cooking oil
1/4 Cup – Any hard cheese
1 Tbsp. – Butter
Salt and pepper to taste.
Directions:
1st step: Take 3 eggs, ½ cup Parsley, 2 to 3 tbsp milk, salt, and pepper in one bowl. Mix them very well. Keep this mixture aside.
2nd step: And then take a pan, put one tbsp cooking oil. Leave the chopped onion in the pan. Keep fried for 30 seconds and then mixed this fried onion with the mixture.
3rd step: Put some butter in the pan, rub it in the whole pan with the brush, and then Poured the mixture. Add some cheese at the top of the omelet. Keep flipping until it's come out with beautiful brown color. A mouthwatering smell will come out.
Options; 
– Ham
– Black olives
The Best French Toast Recipe
There is nothing better than the smell of buttered French Toast with a hint of cinnamon coming from your Kitchen. What a special treat it is to have this dish to start your day.
All in all, this is one of my favorite dishes for breakfast, so easy and fast to make. Now with all the different toppings that you can have, makes this the perfect "start for your day". As for me, it is butter, cinnamon, and the best of the best "Canadian maple Syrup".
Go ahead and try this awesome recipe.
Recipe
4 Slices  – Sliced toast bread or any other type of bread.
1 – Egg
1/2 Tsp. – Vanilla extract
1/4 Cup –  Milk
Butter as needed
Toppings;
Butter
Cinnamon
Maple syrup
Icing sugar
Any fruit
What other breakfast can you make for your family that is so fast and easy? This combination of the bread, egg, and toppings, makes this an outstanding Morning breakfast.
Make sure that you beat the egg, Milk, Vanilla extract mixture, very well until it is soft smooth. Use a large plate to lay down the bread slices to soak up all the mixture evenly.
Let the bread slice soak for at least 5 minutes or longer. In this way, the mixture will be soaked into the intermediate of the bread and thus making it moister all around.
Take a pan put some butter. Leave each slice of bread on the pan keep flipping until brown color comes out.
Now go ahead and add your favorite toppings and make it your way. Do not forget to make extra because your children will ask for more and you do not want to run out.
Blueberry Pancakes Recipe
Recipe
1 1/2 cups – all-purpose flour
1/2 Cup – Milk, plus more as needed
1 Tsp. – White or brown sugar
1 Tsp. – Baking powder
1 Tbsp. – Cooking oil or butter
1 Tsp. – Salt
1 – Egg
A few small blueberries
Makes   2 Pancake servings.
Topping
3/4 Cups – Blueberries
Maple syrup
Small strawberry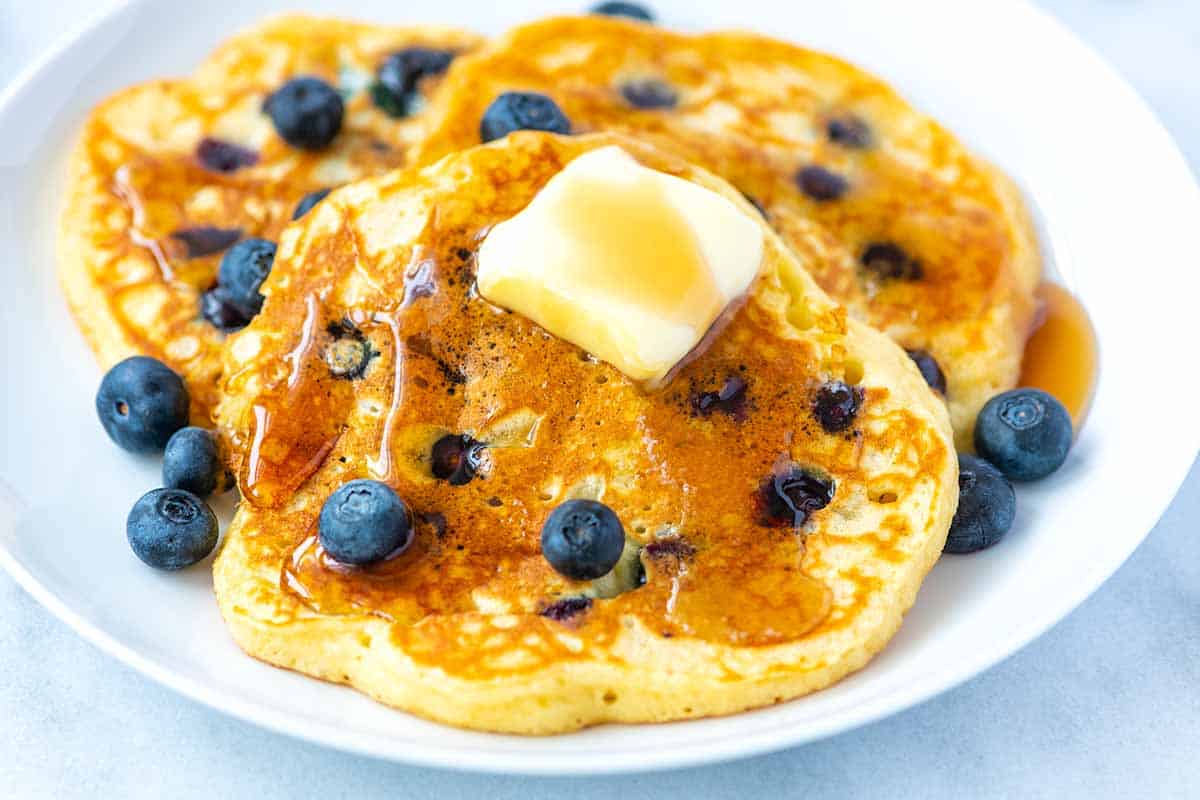 First step: Flour, sugar, a pinch of salt, baking powder, milk, and egg mixed together very well in the bowl and then mix some blueberry.
2nd step: Put some butter or cooking oil in the pan. Poured the mixture on the pan to make a circle shape. Flipping up until it comes out with lite brown color. All done. Your children can get the smell from the sitting room and they are anxiously waiting to grab it.
Now you can decorate it with maple syrup, blueberries, and some strawberries.
Mushroom Breadsticks – Pierogi Szwedzkie
Recipe
1 lb. –  Button or any type mushrooms
1/2 Cup – Butter
1 – Medium – Onion
1 Tsp. – Vinegar
1/2 Tsp. – Salt
1/2 Tsp. – Pepper
Topping
1 – Egg yolk
Splash of water.
Black cumin as needed
Dough
Ready-made or homemade
2 cups – all-purpose flour
1 Pkg. – Yeast
Pinch of salt
Splash of milk
2 Tsp. – Cooking oil
Water as needed
It is very important to let most of the water to evaporate from the mushrooms. I would say about 90% of it.
Please do not think of draining the excess water and being done with it, because that is where the flavor is and I want to keep it in the mushroom, not down the drain.
Keep the mushroom piled in the middle and that will make the drying process go faster.
Keep on stirring on the sides and piling it. 
Only add the butter and vinegar when the water has evaporated.
If you skip this process, then your mushrooms will be very soggy and have no taste.
To make your life easier you can buy the ready-mix dough at your Supermarket or make it from scratch.
Here I used my hand to mix up my dough then I let it rest for about 2 hours.
Your dough should be as thin as possible because you do not want a large puffy crust but a nice smooth and round finish.
Now you do not have to use the cardboard stencil as I did here, but I find this keeps them the same size. It takes out the guessing game of trying it freehand.
Make a line with your mushroom mix and please try not to spread it around too much because then it will make it harder to lock in the dough with mushroom at the sealing point.
If you find that the dough slices have disappeared a bit, then just roll it a few times to get it back to its shape.
Now just roll it over and tap it in. making sure that the mushroom is in the rolled part.
Just roll the whole thing over and there you go, a perfect breadstick.
Add the egg wash to the tops of the sticks.
Now I usually do not do the sides because I find that the yolk accumulates at the bottom of the breadstick and burns during the baking.
So I just cover the sides.
Now to top it off "The Black Cumin". This gives a nice around taste to this dish and this type of cumin is good for you. It just finishes it off to a perfect Breadstick.
Set the oven to 300 degrees Celsius /600 degrees Fahrenheit and then put it in the oven for 25 minutes until the brown color comes out.
Top best coffee shop in Lisbon Portugal
Pastelaria Guadalupe Address
Rua do Terreiro do Trigo 24, Lisbon 1100-604 Portugal
Price Range $5- $6
CUISINES
Cafe, Portuguese, European
Vermelhosa
Calcada da Estrela 26, Lisbon 1200-664 Portugal
PRICE RANGE
$3 – $20
CUISINES
European, Deli, Contemporary, Portuguese, Cafe
SPECIAL DIETS
Vegetarian Friendly, Vegan Options
3.Pastelaria Alfama Doce
Regueira, 39 E 39A, Lisbon 1100-435 Portugal
Details
CUISINES
Cafe, Portuguese
SPECIAL DIETS
Vegetarian Friendly
4.Pastelaria Batalha – Camões
Address Rua da Horta Seca, 1 Praça Luís de Camões, Lisbon 1200-221 Portugal
Details
CUISINES
Cafe, Healthy, Portuguese
SPECIAL DIETS
Vegetarian Friendly, Vegan Options
5.Quase Café
Rua do Salvador 32, Lisbon 1100-466 Portugal
Details
PRICE RANGE
$6 – $17
CUISINES
Cafe, European, International
SPECIAL DIETS
Vegetarian Friendly, Vegan Options, Gluten-Free Options
6.Zenith Brunch & Cocktails – Lisboa
Rua do Telhal 4A, Lisbon 1150-346 Portugal
PRICE RANGE
$6 – $14
SPECIAL DIETS
Vegetarian Friendly, Vegan Options, Gluten-Free Options
MEALS
Breakfast, Lunch, Brunch
CUISINES
American, Cafe, European, Contemporary, Healthy
7.Pastelaria Santo Antonio
Rua do Milagre de Santo Antonio 10, Lisbon 1100-351 Portugal
SPECIAL DIETS
Vegetarian Friendly
MEALS
Breakfast, Brunch
CUISINES
Cafe, Portuguese
8. Augusto Lisboa
Rua Santa Marinha No 26, Lisbon 1100-491 Portugal
Details
PRICE RANGE
$6 – $23
CUISINES
European, Portuguese
9.The Mill
Rua do Poco dos Negros 1, Lisbon 1200-335 Portugal
PRICE RANGE
$6 – $28
10.Heim Cafe
Rua de Santos-o-Velho 4, Lisbon 1200-812 Portugal
PRICE RANGE
$5 – $17
CUISINES
Cafe, European, Healthy
11.Brunch Cafe
Rua da Alfandega 120, Lisbon 1100-016 Portugal
PRICE RANGE
$8 – $14
CUISINES
Cafe, International, European
SPECIAL DIETS
Vegetarian Friendly, Vegan Options, Gluten-Free Options
Special note for our dear readers, before visiting any restaurant during COVID-19 always make sure they are open by calling them ahead of time. Many restaurants have succumbed to the effects of COVID-19.
Must-Try Foods When Eating at a Portuguese Restaurant
Whether you are a lover of European cuisine, a native of Portugal, or someone who just wants to try out something new, Portuguese food offers flavor, spice, fun, and bite into the Mediterranean. There are certain food items that you should not miss out on.
Drinks:
Most countries from this part of the world enjoy an alcoholic drink with every meal. Ginjinha is a traditional alcoholic beverage. This sweet liqueur is made of sour cherries and is offered in a chocolate shot glass, like a giant Mon Cheri.
Port wine is another drink that is signature to dining in a Portuguese restaurant. It is a wine mixed with a harder liquor, usually brandy, so make sure your bartender is not too heavy-handed.
Appetizers:
For the seafood lover, the best appetizer to get at a Portuguese restaurant has to be Camarones al Ajillio. This delicious appetizer consists of shrimp sautéed in olive oil (a staple of their cuisine) and paprika.
Linguica Portuguesa is a traditional sausage, bursting with flavor to get you ready for the meal to come.
For a lighter starter, skip the heavy meat tapas and try a traditional Mediterranean salad with baby greens, goat cheese, and fresh tomatoes.
Desserts:
The people of Portugal have a major sweet tooth and for this reason, you can be promised delicious confections when dining out in this style.
Pastel De Nata is a delicious egg custard tart baked in filo dough. Most places will serve it to you warm, sprinkled with cinnamon and powdered sugar.
The simplest yet by far most delicious dessert is Leite Crème. This pastry is made with cream, eggs, and roasted sugar, simple yet superb.
The Bottom Line
Each country has its own traditional food. Where people from other countries have breakfast like the king, the Portuguese have some kind of breakfast in the morning. They spend a lot of time making lunch and dinner.
We had comfortable access to the kitchen of the hotel where we were staying, and while I was preparing breakfast for my kids, the owner doubled the taste by adding a little Portuguese flavor to my cooking. It was an amazing tour.